"File:Chakra chains.png Chakra Kusari.png" cannot be used as a page name in this wiki.
Adamantine Sealing Chains

Name

Kanji

金剛封鎖

Rōmaji

Kongō Fūsa

Literal English

Adamantine Sealing Chains

Debut

Appears in

Anime, Manga, Game and Movie

Data

Classification
Rank

A-rank

Class

Offensive, Defensive, Supplementary

Range

Short to Mid range
The Adamantine Sealing Chains is a fūinjutsu used by members of the Uzumaki Clan.
Usage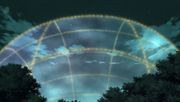 This technique molds the user's chakra into extremely durable chains which can be used for various purposes, such as directly combating or physically restraining their targets — foes even as powerful as a tailed beast. These chains could also be used to bind the chakra of a target, completely neutralizing them. Using these chains, the user could also erect a barrier strong enough to prevent anyone or anything from entering or leaving the perimeter defined by the chains.
These chains can also be made up with a seal, and can be used to completely pin down a tailed beast in one's own mind.
See Also
Community content is available under
CC-BY-SA
unless otherwise noted.