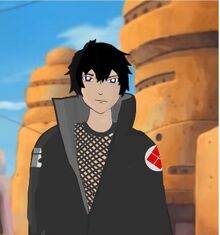 editKyoshi Tanaka

Personal

Birthdate

July 27

Gender

Male

Age

17

Height
Weight
Blood type

B

Kekkei Genkai
Occupation

Affiliation

"Sunagakure" is not in the list of possible values (Allied Shinobi Forces, Akatsuki, Root) for this property.

Sunagakure

"Konohagakure" is not in the list of possible values (Allied Shinobi Forces, Akatsuki, Root) for this property.

Konohagakure

Team

Sunagakure Squad 7

Partner

Unknown

Clan

Tanaka

Rank

Ninja Rank
Academy Grad. Age

9

Chūnin Prom. Age

12
Kyoshi was born into a farming clan, thus making it rare to see a shinobi in the Tanaka Clan. Kyoshi is skilled at ninjutsu, especially wind release techniques. His signature justu is the kagekiri or shadow cutter, in which he draws energy from the shadow realm and combines it with his own chakra, using the dojutsu Kagegan He is one of the most skilled ninja in the Land of Wind.
He graduated from the academy at the age of 9 and became a chūnin at the age of 12. He mastered his use of the kagegan by age 14 and created the kagekiri the same year. He also joined the ANBU at the age of 15 but left the same year. He also mastered many of Danzo Shimura's Wind Release Techniques as well as his summoning, Baku. He is ranked as an S class shinobi, and is known to many people by "The Shadow of the Sand"
Kyoshi also spend much of his time in Konohagakure, aiding the Kazekage if needed. He is close with many people in the leaf such as Himawari Uzumaki.
Wind Release
Throughout Kyoshi's time at the academy in Sunagakure, Wind Release was a favorite of the students. There were many stories told of Konohagakure's Danzo Shimura and his techniques. On a trip to Konohagakure Kyoshi visited a village library and found a book of these techniques. Knowing that the trip would be over soon, Kyoshi smuggled the book back to Sunagakure and mastered Danzo's signature wind techniques and his summoning, Baku, by the age of 15.                                                  
Community content is available under
CC-BY-SA
unless otherwise noted.