editNihō

Personal

Gender

Male

Species

Golden-Headed Lion Tamarin

Age

96

Height
Weight
Classification
Partner
Nihō is a golden-headed lion tamarin from Uzushiogakure's Forest of Wonders and Senryūu's personal summon.
History
Not much is known of his life before befriending Senryūu in the Forest of Wonders. Senryūu is sure that the monkey has some experience with the shinobi world due to his knowledge on the subject, but Nihō denies it. When asked about his past, he fabricates different egregious tales about being the king of the animals.
Abilities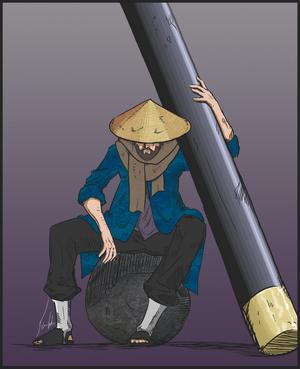 Niho's transformation technique, Henge: Hādobīmu (変化ハードビーム) turns the monkey into a black staff adorned with golden tips, resembling the colors of the tamarin's fur. The staff is as hard as diamond and has the ability to expand or shrink instantly. It's eerily similar to the staff used by The Third Hokage, which was able to effortlessly destroy Hashirama's wooden structures and overwhelm Kurama, shoving him out of Konohagakure. While in staff form, Niho is capable of moving around on his own, launching himself toward enemies or returning to Senryūu. Senryūu's mastery with the staff allows him to handle a wide variety of aggressors by instantaneously manipulating the staff's size and immense power.
Personality
Nihō is generally quiet and observant, although there are multiple instances where his feral background causes him to lash out and lose his temper. He has admitted that he's unsure of how to effectively communicate with humans as they frustrate him, relying on Senryūu to handle it when needed. However, he is genuinely concerned for Senryūu's well-being and is loyal to his young charge above anything else.
Appearance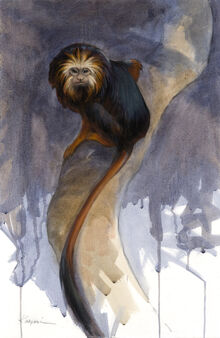 While he stands at nearly thirty centimeters tall, which is quite large for a tamarin, he retains the primary features presents in all golden-headed lion tamarins. His body and face are a deep black while his limbs, tail, and mane are ablaze with gold.
Community content is available under
CC-BY-SA
unless otherwise noted.