Portal of the Netherworld

Name

Kanji

冥界のポータル

Rōmaji

Meikai no Pōtaru

Literal English

Portal of the Netherworld

Debut

Appears in

Game only

Data

Classification
Class

Supplementary

Range

Short-range

Hand seals

Snake → Ram → Monkey → Boar → Horse → Monkey → Horse → Dog → Sheep

Users

Angra Mainyu

The list of properties to be used for the data fields has not been specified properly.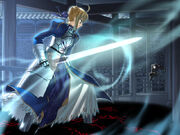 After preparing the necessary hand seals, Angra Mainyu creates a seal on the ground, which turns invisible and remains so until he as the creator forms the technique-specific hand seal. When activated, the seal becomes physically visible and emits a pale purple glow, before being engulfed in a layer of chakra, predominantly shaded black with streaks of red around its circumference. Emitting a gravitational pull on all those located on top of it, the shadow-like seal causes them to sink into into, and be sealed within, a realm of complete darkness.
Angra Mainyu may then corrupt those trapped within the pocket dimension by virtually drowning them in his own ominous chakra and control them as though they were his servants, with himself the prominent master. Once trapped by the seal, there is no possible way of breaking out. Expelling chakra out in the attempt to overpower the seal is futile, as it will be absorbed into the latter's design, and further enhance its gravitational pull.