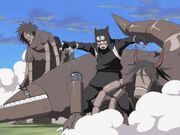 Puppets (傀儡, Kugutsu) are used as weapons by puppeteers. They are most often humanoid-looking creations, but depending on the creator, can resemble anything. They are fashioned in a manner that uses every part as a weapon, giving the puppeteer a myriad of ways to manipulate it. Puppets are long-ranged type weapons that can be used offensively, defensively or for supplementary reasons, and are controlled via Chakra Threads. Because of their design, the weak point of any puppet is its joints. There are two types of puppets: ones made from material such as wood, and Human Puppets. Famed puppeteer Sasori of the Red Sand was the inventor of human puppets and also created a puppet which he wore like armour, bypassing the usual disadvantage that puppeteers had of being weak in close-ranged combat. Puppets are often sealed within scrolls using fūinjutsu, for ease of transport.
See Also
Community content is available under
CC-BY-SA
unless otherwise noted.