Currently living in Yamagakure, learning under the guidance of her Father and Mother; Honō Uzumaki and Tsunade Senju.
editTsukiko Uzumaki

Debut

Appears in

Game only

Personal

Birthdate

Yamagakure

Gender

Female

Age

10

Blood type

O

Occupation

Ninja

Affiliation

"Yamagakure" is not in the list of possible values (Allied Shinobi Forces, Akatsuki, Root) for this property.

Yamagakure

Rank

Ninja Rank
Anbu

"Anbu" is not in the list of possible values (Academy Student, Genin, Chūnin, Tokubetsu Jōnin, Jōnin, Kage, Head Ninja, ANBU) for this property.

Academy Grad. Age

11
History
Tsukiko Uzumaki was born on June 21, 2014. She was born into the village of Yamagakure. Her Father was Kage of the village and built what is known as today; Honō Uzumaki. Her Mother was his right hand, and obvious Lover at a time, the Medical-Nin Tsunade.
Shortly after her birth her Father was approached with an offer to keep her protected. With her blood, a Spirit Guardian of pure intention was born known as Antei the fox. She would follow Tsukiko till the day she died trying.
The connection they had was the strongest relationship of all and something on a whole other level of reality. The two were connected by a blood seal located on the forehead of the fox and the back Tsukiko herself.

The Ninja Academy of Yamagakure
At the age of 10, Tsukiko began her ninja training and is currently trying to graduate.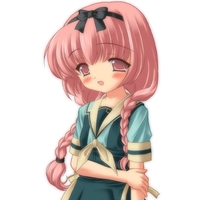 Community content is available under
CC-BY-SA
unless otherwise noted.